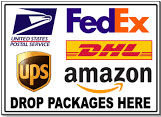 We offer a wide variety of delivery options from overnight to ground delivery using the most practical carrier to meet your needs.  We are an Authorized Shipping Outlet For UPS, Fedex, DHL and USPS. No franchise fee – lower cost, lower price for you and better service!  You are always welcome to drop off any prepaid labeled packages at no cost.  We support Amazon Drop-point  and Ebay drop-offs.  Find out what cannot be shipped to in these countries?
Packaging and Supplies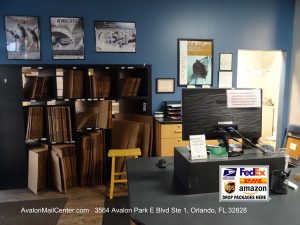 With our expert packaging, you can rest easy knowing your package will arrive safely in good condition.  Fragile packing services include shrink wrapping and bubble wraps.  We will pack your valuables as if they were our own. Need some supplies to take home with you? We carry numerous box sizes and envelopes for all your shipping and mailing needs.
DHL, FedEx, and UPS, the three private giants, have been in business for decades. They've transported billions of parcels. And yet, there remain doubts aplenty about each of their strengths and weaknesses. Though in the same industry, the three behemoths function in unique ways. FedEx reigns supreme in the air, while UPS has an exhaustive fleet on the ground. DHL, on the other hand, specializes in international shipping.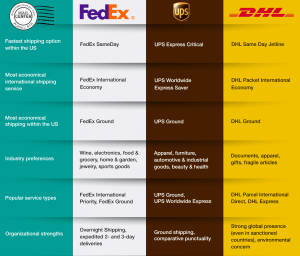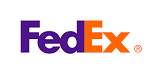 Pickup Time: Ground Service M-F 4.00 pm .  Express Service M-F 5 pm & Sat – 3.30 pm

A Direct Authorized Fedex Service Center, no franchise fee – lower cost, lower price for you and better service!
Federal Express is about connecting people with goods, services and ideas creates opportunities and improves lives.  At FedEx, we believe that a connected world is a better world, and that belief guides everything we do.  Today, it operates services in over 220 countries and territories. Within the US, it's possible to pick up, drop off, or ship at more than 51,000 FedEx locations. Like DHL, FedEx has a claims process to apply for refunds for service failures on its part.
FedEx offers the following service types for non-freight shipments within the US:
FedEx SameDay, FedEx SameDay City, FedEx First Overnight, FedEx Priority Overnight, FedEx Standard Overnight, FedEx 2Day A.M., FedEx 2Day, FedEx Express Saver, FedEx Ground, FedEx Home Delivery, FedEx SmartPost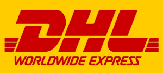 Pickup Time: M-F 5 pm or as needed
DHL is an American-founded company that is now part of Deutsche Post. It is headquartered in Bonn, Germany. Today, Deutsche Post DHL is known to be the world's largest logistics company. Its international game is by far the strongest among the three, and it is the only carrier that delivers to sanctioned nations like North Korea. It delivers over 1.3 billion parcels per year.
Some of its domestic non-freight service types are DHL SameDay Sprintline, DHL Express 9:00 Domestic, DHL Express 10:30 Domestic, DHL Express 12:00 Domestic, DHL Express 18:00 Domestic, and DHL Express Easy.
Its international non-freight offerings include DHL Sameday Jetline, DHL Sameday Sprintline, DHL Express 9:00, DHL Express 10:30, DHL Express 12:00, DHL Express Worldwide, DHL Express Envelope, DHL Express Easy, and DHL Globalmail Business.

Pickup Time: M-F 5.30 pm .  Sat – No Pickup
A Direct Authorized UPS Access Store, no franchise fee – lower cost, lower price for you and better service!
UPS, the oldest of the three majors and the reigning private behemoth in the US was founded in 1907. It has a presence in 220 countries and territories.
It delivered over 5.2 billion parcels in 2018, an average of 21 million per day.
UPS operates over 2,500 facilities worldwide and maintains over 28,000 access point locations. It uses 123,000 vehicles in its delivery fleet out of which more than 10,000 use alternative fuels. This is the largest fleet of alternative-powered vehicles in the world.
UPS was voted No. 1 in the delivery industry in Fortune magazine's 2018 rankings of the "World's Most Admired Companies."
UPS offers non-freight shipping service types for both domestic and international shipments:
Within the US: UPS Express Critical – Domestic, UPS Ground, UPS Next Day Air Early, UPS Next Day Air, UPS Next Day Air Saver, UPS 2nd Day Air A.M., UPS 2nd Day Air, UPS 3 Day Select
International: UPS Express Critical – International, UPS Worldwide Express Plus, UPS Worldwide Express Shipping, UPS Worldwide Saver, UPS Next Day Air, UPS Worldwide Expedited, UPS 2nd Day Air, UPS Standard

Pickup Time: Monday-Saturday 3.00 pm
The United States Postal Service is an independent agency of the executive branch of the United States federal government responsible for providing postal service in the United States. USPS will deliver to rural areas. The period between Thanksgiving and Christmas is the busiest time of the year for the USPS with the agency delivering a projected 900 million packages during this period. 
For shipping packages less than two lbs., USPS is usually cheaper than Fedex. When it comes to shipping parcels greater than two lbs., FedEx can be more cost-effective than USPS, offering cheaper rates.
The USPS doesn't give any precise information about shipping dates. In rare cases, parcels could take as long as three weeks to arrive.
In addition, their tracking can be inaccurate. On occasion, a parcel could show as delivered when it hasn't arrived yet at the destination.  "Arrival at Unit" means that it was delivered to the post office unit that is closest for local delivery.   In other cases, tracking information might not be given at all until the parcel has already arrived.  
Avalon Park . Mail Center . 3564 Avalon Park E Blvd Ste 1, Orlando, FL 32828