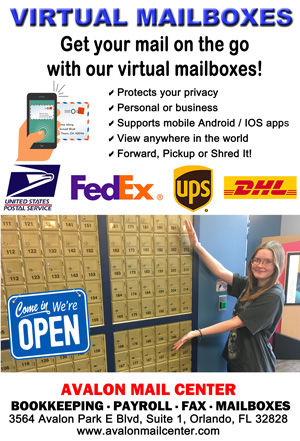 Imagine having a single, reliable address for all your mail and packages. A prominent address that offers privacy and security with a full-time professional to sign for deliveries from FedEx, UPS, DHL, USPS, Amazon or Uber.  Some mail centers don't, we accept them all.
Registered Agent Service for Your Business. If you own a Limited Liability Company (LLC), Corporation, or Limited Partnership (LP), you are required to designate a registered agent for your business entity.
We can form your business and legal entity.
We will act as your agent office to process and receive legal documents for your business as the Registered Office and Domestic Entity.
Authorized Member (AMBR), will be the mailbox primary owner, who is authorized with the duties to read notices, address demands pertaining to the corporation which is served on, forward and maintain accurate corporation records.
All you need is sign-up any size mailboxes:
Designate your Registered Agent Office: AvalonMailCenter.com
Put your personal box address: 3564 Avalon Park E Blvd, Ste 1-[mailbox number], Orlando, FL 32828
Authorized Person: Title

AMBR

, enter

your name

 or your designated Chief Financial Officer and your 

mailbox address.

  Your signature.
Question see, [

See

 Domestic Entity Statute 607.0501 ]
We offer private Physical Mailboxes in three sizes. You'll have 24/7 access, located safely inside our store. After hours, you enter through your private entrance with an electronic keypad, and personal mailbox key. You can also schedule a standing order to be notified every Saturday of new mail.  You will billed for time and material for all secretarial services provided by our student staff at UCF.
You can also open a Virtual Mailbox with immediate app notifications with standing instructions.
To open a Physical mailbox, come into the center with 2 ids.
Physical Mailbox Rental Prices
| | | | | |
| --- | --- | --- | --- | --- |
| Size/Type | – | – | 6 Months | 12 Months |
| Personal | | | $114 | $192 |
| Business | | | $144 | $252 |
| Corporate | | | $168 | $312 |
Bring along 2 Government issued ID to register with USPS Form 1583.
Virtual Mailbox while you are away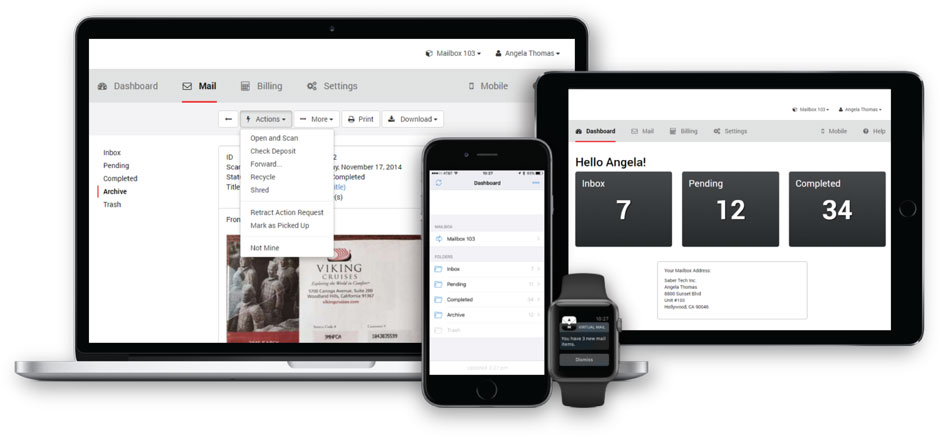 We offer a Virtual Mailbox option for those who live by a smart phone.  As you receive mail you can easily view and manage it from your mobile device or computer. No matter where you are in the world you will be notified via native app alerts, text messaging, or emails when mail arrives or a requested action has been completed.
You can use your new virtual address as your Registered Agent address to keep your information private.
| | | | | |
| --- | --- | --- | --- | --- |
| Plans: | 1 Month | – | – | 12 Months |
| Virtual | $22 | – | – | $192 |
You can open a Virtual Mailbox online anywhere.  We have a guest computer if you don't have one.

Once your application is complete you will need to print out the Form 1583 for the US Postal Service.  Bring along 2  issued ID to have it Notarized by us. 
Download the Steps for: |[Walk-ins Notary]|
General guidelines:
At least one ID must be a government-issued photo ID
At least one ID must verify the home or business address
ID's lacking both a photo and address are not acceptable.
ID's that are acceptable:
Valid driver's license or state identification card (ID)
Armed forces or government identification card
Passport, alien registration card, or certificate of naturalization
A Current lease, mortgage, or deed of trust
Voter or vehicle registration card
Home or vehicle insurance policy
Medical insurance card
Recognized school ID
Work/Corporate ID
Marriage license (if your maiden name differs from your current name)
[|SIGNUP VIRTUAL MAILBOX NOW|]
| | |
| --- | --- |
| Incoming Mail Scan | 60 / month. Each additional at US$ 0.50 |
| Open and Scan or Photograph inside | Unlimited.  10 pages / month. Each additional page at US$ 0.25 |
| Forwarding / Ship | Each at US$ 2.00.  Shipping fees will apply |
| Check Deposit | Each at US$ 15.00. Supporting Fairwinds Credit Union, Trustco, City National, Truist, SunTrust, Fifth Third Bank, Bank of America, PNC and Chase. |
| Recycling or Discard | Unlimited |
| Secured Shredding | Each at US$ 0.15 for documents or $2.00 packages |
| Local Pickup | During Store Hours.  Applicable fees may apply for storage |
| Physical Storage | Free storage for 7 day(s), then US$ 0.50 for every mail item per day. |
| Online Storage | Unlimited |
| Recipients or Employees | 3 Names.  Each additional US$ 10.00 / month |
[|SIGNUP VIRTUAL MAILBOX NOW]|]
You can also come by Avalon Mail Center, bring along 2 issued ID to register USPS Form 1583.
In addition, [Rent an executive Office Room ] at a discount, when your business address is here.
Avalon Park . Mail Center . 3564 Avalon Park E Blvd Ste 1, Orlando, FL 32828