Darren Fink, local author and co-founder of the nonprofit Transfiguration Adoption has a new book to share with our community. Being a frequent customer to Avalon Mail Center, I wanted to get to know about him, his organization, and his new book. His book A Guide to Magical Creatures Around Your Home aims to help children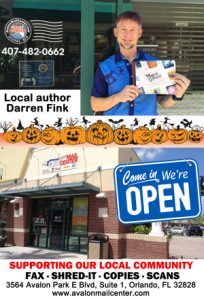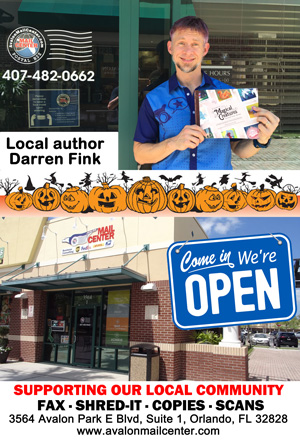 cope with trauma through imaginative play. Darren Fink and his wife Margie Fink are adoptive parents who are familiar with the difficulties that come along with adopting and fostering children. Margie has a degree in psychology and Darren is certified in counseling with a background in the arts. Together, they have supportive volunteers and staff members to help introduce a little magic back into foster children's lives. The nonprofit came about when their children wanted to start a blog to reach out to the community of foster children and their families to assist them in managing their issues via the Harry Potter series. Their son had a strong connection with the Harry Potter series and thus the blog was born and then the formation of the nonprofit. The nonprofit's Media Review Service is a handy tool for parents and children to discuss books, movies, and video games help in coping with past traumas. These types of media are also discussed and analyzed for material that may be triggering for children.
Both the book and blog have helped families foster a nurturing and positive environment. Readers can purchase the book through their website: www.magicalcreaturs.com as well as at Amazon.com.
By Kayla Buchholz, Avalon Mail Center